Let's get Acquainted...
(follow all the links for some nice surprises along the way!! You won't be disappointed!!!)
My name is Mary Ann... Welcome to my webpages! I live with my husband in Swift Current - a small city in the SouthWest corner of

Saskatchewan-

Canada... (part of the "Banana Belt of Saskatchewan"!!!) Many lovingly refer to our fair City as Speedy Creek OR "The Frontier City", but now we're known as Swift Current - "Where Life Makes Sense"!!
We are empty nesters (for the most part) now...
We have a married daughter - whom, just over a year ago, Blessed us with our first Grandson. Unfortunately for us, they live a few hours away - in Calgary, Alberta, so we don't see them as often was we would like. Growing up, our daughter was involved with our Church and still talks about how AWESOME it was when she had the chance of a lifetime to attend the

2002 World Youth Day events in Toronto, with the Catholic Church, 2002 JULY 20 - 30!!! Our daughter played piano and also played clarinet in the high school band.
Our son is a

Naturalist, as well as a

musician -- he plays the

piano (and took a number of the Royal Conservatory of Music exams.) He also plays

trumpet i- and did so in the high school bands, one of the high school Jazz Bands, and in the Church Choir. He also

sang in the high school choir and another auditioned high school singing group featuring some great vocal jazz numbers and chamber singing. Other singing accomplishments included singing with the Provincial Honour Choir while in high school, and with the University of Saskatchewan's Greystone Singers (during his first year of University). He was also an actor in the high school drama productions, as well. In the past, he also took two years of violin lessons, but did not had the time to continue with it. Maybe some day, he will pick it up again. He just recently completed his Bachelor of Science degree at the University of Saskatchewan (in Saskatoon, Sk.)
My husband and I are kept busy with work, our Church, and birding. I wish our grandson was closer so we could say we are also kept busy with him.
Over the past few years, I have taken up with the wonderful world of

birding, an activity I enjoy with my husband and son (when he is home). We are really enjoying Nature on the Wing! Check out our updated and growing birding

Lifelist

found at our birding pages... (Check it out -- lots of birding links, photo galleries, field guide suggestions, etc.) We are also members of the local

Southwest Naturalist Club

.
Do you like to read and/or talk about birding, butterflies, and other wild critters?? If you do, I have a great interactive forum discussion for you!! Check out the

Birds, Butterflies, and Other Critters... forums discussion group and please feel free to join the flock in the sharing of sightings, ideas, etc. We would be more than happy to hear from you!!
Are you looking for a friendly place to visit and read about (or even post about) wild critters of any kind (furry, slimy, feathered, whatever) on the web? I am the host of the

Birds, Butterflies, and Other Critters... forums discussion group . We are a very friendly group of participants and welcome everyone with good ole Western hospitality!! (((HUGS)))
I am a first generation

Canadian and very proud of it!! Stop and visit our



. I am searching for

Slovak recipes (if anyone has any

Slovak recipes they are willing to share, or are searching for Slovak / or Czech recipes, please contact me). I am also interested in Slovak traditions, legends, etc. Czech out my

Slovak page...

I also enjoy amateur photography

, computers
and the internet,
reading, listening to

music

(both recorded and that played by our two kids, whether it be on the piano, clarinet, trumpet or violin), and my family and their busy activities... (You should have seen the frenzy in our household during the annual

Music Festivals...

when the kids were growing up and advancing in their music programs.) We also enjoyed taking family vacations, every now and again, and have just started to get into the camping scene

. In 2001, we joined the RV's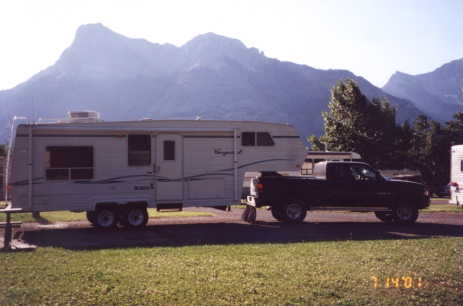 on the roads and in the campgrounds, for a whole new vacation experience and we've been continuing to enjoy it!!! It looks like this will be how we spend the next several years vacationing (barring any unforeseen circumstances!)
To check the weather in Swift Current and other parts of Saskatchewan and Canada, check out the Weather Office.

---

Feel free to

me!!!