Waterton Lakes National Park
"Where the Mountains Meet the Prairies"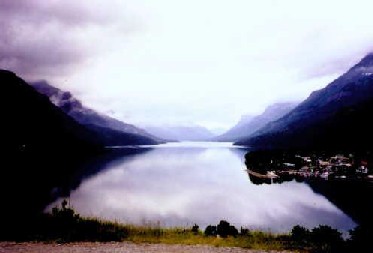 Our Waterton Photo Gallery

WATERTON LAKES & GLACIER NATIONAL PARK

Links: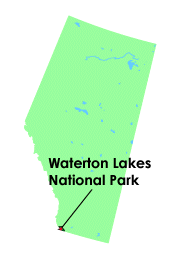 Waterton offers motel and camping facilities, good hiking trails, great birding opportunities, shopping (including groceries), and much much more! There are White-tailed deer and Big-horned sheep freely wandering around throughout the Waterton townsite, as well as up at Red Rock Canyon..... They are very much a part of the local residents!
If you take an early morning or late afternoon drive along the Red Rock Parkway, you may be lucky enough to see a bear grazing..... Waterton has both, Grizzly and Black Bears. As long as you are careful, obey the Park Rules (and common sense), your bear-experiences should be good ones! If you are into wildflowers, this drive also gives you the very best in wildflower tours...... Make sure you have lots of film loaded in your camera! My favourite "flower" throughout Waterton and Glacier National Parks is the beautiful Common Beargrass Lily! (I bought a book "PLANTS of Waterton-Glacier National Parks and The Northern Rockies" by Richard J Shaw and Danny On. It is overwhelming the number of plant species found in this this Eco-region! An invaluable book to take with you on a "wildflower tour".......)
If you want to take a drive down into the Glacier National Park (Montana, U.S.A.), you would not be disappointed! The scenery is spectacular..... as you drive along the Chief Mountain Highway joining Waterton Lakes National Park to Glacier National Park ..... If you go this route, be sure to take the "Going-to-the-Sun" Road, at St. Mary's! We have seen Rocky Mountain Goats along the road's edge, oblivious to the traffic. Usually a traffic jam means the Mountain Goats are along the road's edge..... and the tourists are trying to get some good photo ops.... Further down the road, you will come across Lake McDonald. A few years ago, we were eating our lunch in a picnic area by Lake McDonald --- when a couple deer came wondering up to the picnic table. We tried to ignore them, didn't feed them .... and they eventually wandered off to a more profitable group..... the kids loved this experience!!! We have also gone into the Many Glaciers / Swiftcurrent Lake area ..... (very different from the Swift Current, Saskatchewan, where we live!) This part of Glacier National Park is a very beautiful area, too, and well worth your time to check it out.
Though we love Waterton completely, one of our favourite locations within the Park is



Cameron Lake.... The fresh and cool mountain air, mountainous scenery, and general peacefulness adds something special to this part of the Park! Gotta LOVE it!!!
Waterton has definitely won our hearts...

---
Back to Our Favourite Vacation Spots